Cyspera Pigment Corrector | Decrease Hyperpigmentation & Melasma With Cysteamine
Cyspera- What is all the hype about?
Updated Dec. 2022:

 Cyspera is now discontinued, but don't worry: it's been re-released as Cysteamine HSA Pigment & Tone Corrector. For more information about Cysteamine HSA, check out our blog post that breaks down the ways it's improved on the existing Cyspera formula.
Cyspera is the first topical pigment corrector formulated with cysteamine, an ingredient that corrects stubborn pigmentation issues for those with melasma, post-Inflammatory hyperpigmentation (PIH), within the U.S. skincare market that just recently became available. This new addition is thanks to SENTÉ Skincare's partnership with the Scientis dermatology group based in Switzerland, and due to the fact that it has already been launched in other countries, the raving response for this product has been heard worldwide.

Clinical studies backing the product are vast and impressive, and even from Harben House's product page, numerous reviews show how truly effective Cyspera has been for our patients/customers. These clinical studies include multiple, double-blind, placebo-controlled trials performed comparing Cyspera to other hyperpigmentation ingredients, like Klinger's formula & to a placebo. In every study, Cyspera has proven to be more effective than current products on the market, and significantly more effective than the placebo.
Cyspera is the brand name for Cysteamine, which is the main ingredient. Cysteamine is a chemical compound present in human tissue, and interestingly, it's highest concentration is within breast milk - tested and clinically proven as SAFE and well tolerated for long-term topical use.
Cysteamine's natural presence in human tissues and a long history of human use make it a safe product for cosmetic and aesthetic use. Now cysteamine is proving, through numerous studies, its high efficacy in skin pigment correction, and is a serious contender as a novel first-line non-hydroquinone option for the treatment of hyperpigmentation disorders.
— Dr. Jennifer David, Dermatologist, Schweiger Dermatology Group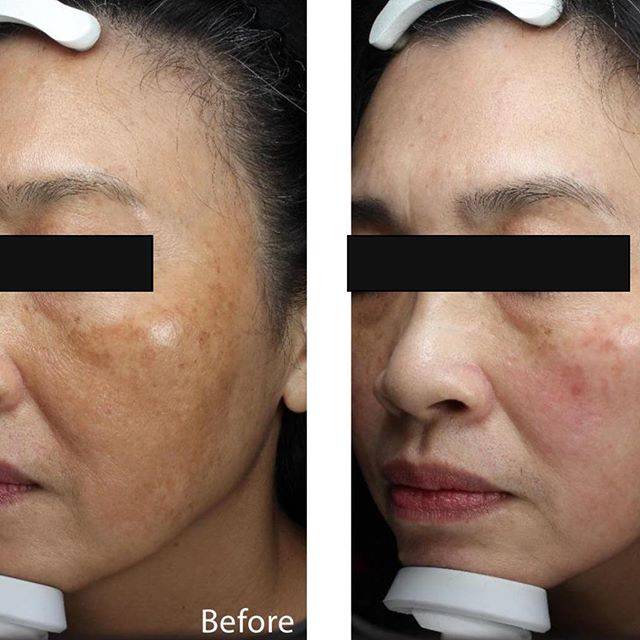 Unique Application Process:
Cyspera is a cream product that is used on dry skin for 15 minutes and washed off using a gentle cleanser. It is important to only use the product on skin that is DRY and has not been washed or wet for over 1 hour, so the best time to use is first thing in the morning or over your makeup before beginning you skincare routine in the evening.
After application, you will need to wash it off with a gentle cleanser, and make sure a good moisturizer or hydrator is applied in your routine after. It is recommended to not use any irritating ingredients in your skincare routine immediately after. So no acids, tretinoin, etc. However, you can use these in your alternate routine. As an example, if you use Cyspera in the morning, you could use tretinoin or acids in the evening, just not within the same routine.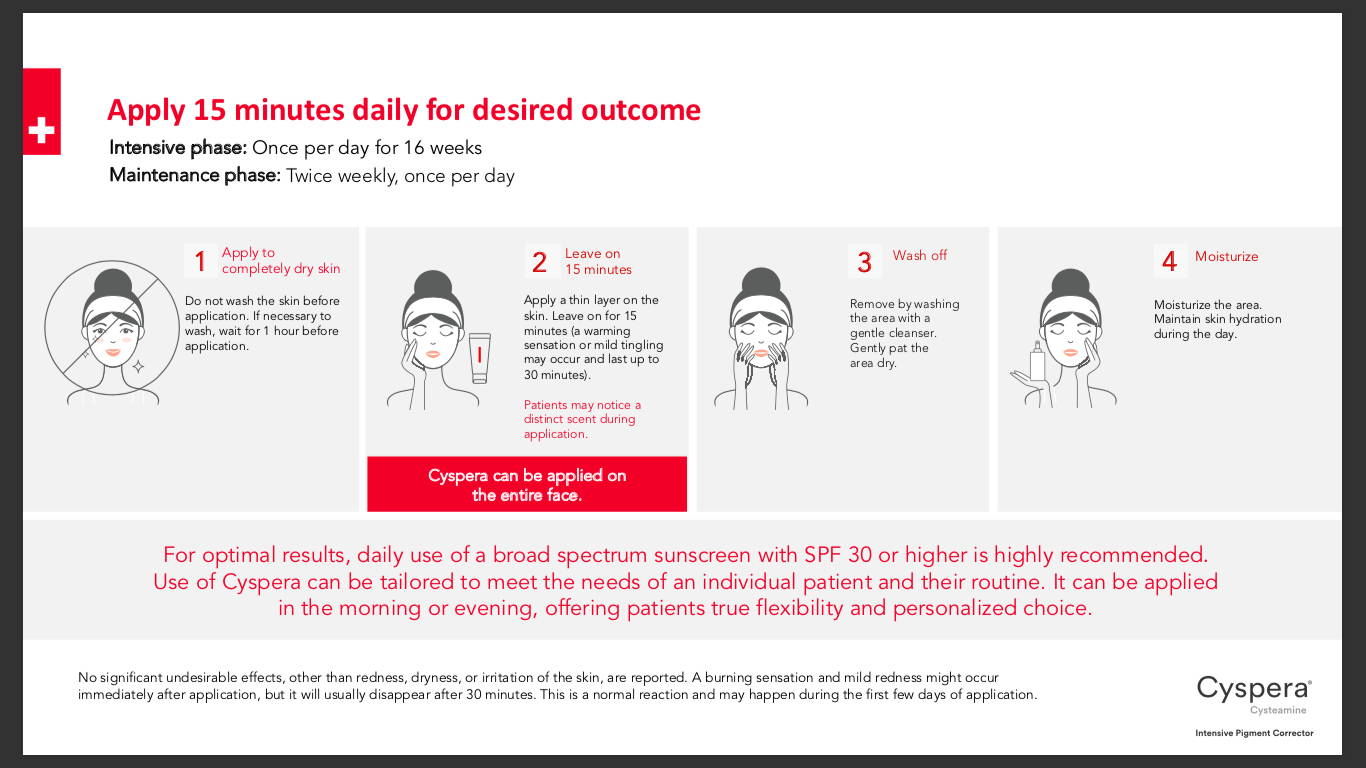 ---
PRIME Journal's Detailed Clinical Feature:
Cysteamine For Treating Hyper-Pigmentation



Additional Information & Clinical Trials: